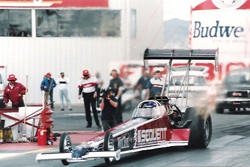 Michael Brotherton originally formed Dallas Motorsports Marketing, Inc to operate a Championship Winning Top Fuel Team which operated from 1987 thru 1995. Michael won 1987 IHRA Rookie of The Year honors. In 1989 Michael became the ninth member of the Crager 4 Second Club @4.996 and set the NHRA mile per hour record @ 294.88. Michael went on to win the the 1990 IHRA Top Fuel World Championship and the 1993 AHRA Top Fuel World Championship. Michael and his Williams Telecommunications Group / Sequent Computers Team were also the first Top Fuel team to break the 4.70 second barrier running a 4.69 second elapsed time in Englishtown New Jersey on 5/20/1994.
In June of 1995 after an eight year commitment to Wiltel/LDDS Worldcom and a two year sponsorship agreement with Sequent Computers the race team was closed. Since January 1996 Dallas Motorsports has focused 90% of its efforts on buying, selling, and remodeling used tractors and transporters, and selling new and used Motorcoaches, Toterhomes, and Trailers to the Motorsports industry.
In 2006 Dallas Motorsports teamed up with Elite Motorsports in a new location in Wynnewood to provide a central location to serve the growing Motorsports industry. Elite Motorsports New Dealership is committed to providing the best brands at the best prices for everything from complete race teams to Motorcoaches, Race Cars, and Trailers for every form of Motorsports.
Dallas Motorsports and Elite Motorsports are committed to providing the highest quality new & used equipment in the industry.