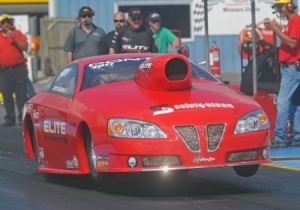 Royce Lee Freeman started his Drag Racing career later in life and that is a good thing for his competition. In his short career Royce Lee has become a consistent semi final and final round player in the NHRA/IHRA Top Sportsman Class. Royce Lee and his RJ Race Cars GXP have been in three final round appearances in 2010/2011 and won the 2010 NHRA Division 7 Points race in Sonoma California and was the runner up at the 2011 NHRA Jeg's Cajun Sports Nationals.
Prior to joining Elite Motorsports in sales full time in 2010 Royce Lee owned the Ford franchise in Lindsay Oklahoma.
Royce Lee is committed to reaching the winners circle this season and is also committed to providing his clients at Elite with the best equipment and service at the best prices.
Royce Lee and his wife, Lisa, live in Duncan, Oklahoma. He has three sons; Chase, Cale, and Casey.