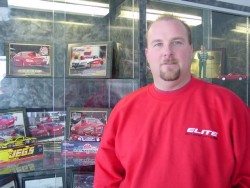 Drag Racing has been in Richard Freeman's blood since he was a youth, In fact it's a family affair. Richards father Royce Freeman competed in the Pro Stock class back in the 70's. and Richards brother Robert won the Jeg's All Stars and a Division 4 Championship in Competition Eliminator.
Richards older brother Royce Lee also competes in the NHRA Top Sportsman class and has a divisional win and several runner up finishes in just his second year of competition. In fact Richards father Royce is in his 70's and currently has a Nostalgia Pro Stock Chevy Vega being finished at RJ race cars and will make his debut later this year on the Nostalgia Pro Stock Series.
Richards passion for Motorsports and his family's history of owning several Chevrolet and Ford Dealerships eventually let him for form Elite Motorsports and build a business centered around providing race teams and team owners with the best Motor Coaches, Trailers, Truck & Trailer Combination's, and Race Cars and Equipment in the industry.
Richards goals in NHRA Drag Racing are to be competitive in the Pro Stock class and to make his "In-House" 500Ci Pro Stock engine program successful.
Richard and his wife Kim have one daughter Kenley, and live in Wynnewood Oklahoma.